Jeremy Lin's season began with less attention and lower expectations than he's probably used to. Dwight Howard's seismic signing and legitimate sights on a championship will do that.
Lin lost his spot in the starting lineup but the presumption was he'd be a little better than last year, thanks to fewer responsibilities in a role more suited to boost his skill-set. He entered December shooting nearly 50% from the floor and 40.3% from deep, commanding Houston's second unit with fearless drives to the basket and unstoppable pick-and-rolls with Dwight Howard and Omer Asik (remember him? Good times!).
There were no legitimate criticisms to be had about his performance. Over the past few weeks, things have been less…better.
Lin is missing wide open three-pointers on a regular basis, forcing drives into the teeth of the defense, and scoring nearly all his points in transition. In his defense, Lin was yanked in and out of the starting lineup with various parts of his body aching at any given moment, but since New Year's Day he's made just 26.2% of his three-pointers (out of a mushy 42 attempts). Lin's per game numbers shouldn't be better than last year, but his jumper is a critical weapon in Houston's offense; for it to stall out is very troublesome.
On a team built around a dominant low-post scorer and his killer pick-and-roll partner, all members of the supporting cast need to be snipers. Lin can be as dynamic off the dribble as he wants, but if defenses don't respect his shot everything and everybody else is affected negatively. Most players (such as Jeremy Lin) have a difficult time functioning with the ball when the defense is one giant Weeping willow across the paint.
They need space and room to operate and breathe. What you need then are sharpshooters, and without falling too deep down the rabbit hole that is Houston's lack of capable three-point shooting, let's just say Lin appeared to be apart of the solution earlier this winter. Today that's uncertain, and the more he plays, the less his game looks suited for the half-court rigors of a playoff series. Houston's net rating with Lin beside the four regular starters is 8.1 points per 100 possessions worse than when Patrick Beverley is in there.
Lin's effective play earlier this season also diverted attention away from his unsightly contract—the exact same deal Asik, a better player who failed to draw much interest on the trade market earlier this season, signed. Right now Lin's deal looks worse than ever. He holds an $8.3 million cap hit next season, but whichever team has him will have to pay just under twice that figure in actual money. ESPN.com's Amin Elhassan analyzed a hypothetical trade Houston could make with the Toronto Raptors to land former Rocket and legitimate All-Star Kyle Lowry, and yesterday our own Rahat Huq expanded on the idea. Lin would be the biggest name going out in that deal.
This trade probably won't happen, but it does speak to where the Rockets are, and just how expendable Lin really is. He's far from the worst point guard in the league, but Houston is in an extremely difficult spot as a franchise. They're trying to go from capped out pseudo-contender to champion, the most difficult leap in the league.
In two years Dwight Howard and James Harden are essentially the only players guaranteed money, and Chandler Parsons could very well join them with a lucrative/deserved long-term contract. (Terrence Jones and Donatas Motiejunas have team options, and Beverley is up for a qualifying offer. None of the three are guaranteed to be around by then.)
Recent struggles aside, it's difficult to envision Lin as a heavy contributor on that team under the type of contract he's sure to draw on the open market.
His skills are evident. Few guards in the league are better taking the ball from their own free-throw line to the opposing rim. But he's inconsistent with pronounced weaknesses. Lin can still throw a mean no-look pass, but his overall court vision is patchy. He'll miss cutting teammates on drives to the basket, making him somewhat too predictable coming off a pick-and-roll. All that said, he's unquestionably the team's second best passer, and has a better effective field goal percentage than Harden.
With Dwight Howard behind him on defense, Lin doesn't need to be Tony Allen. But despite having lateral quickness and fast hands, his play on that end appears to be getting worse instead of better. There have been no improvements defending guards in the pick-and-roll, and his effort heading back in transition can at times be inexcusable.
Here he faces the Memphis Grizzlies with an unenviable task: contain the fabulous Mike Conley Jr.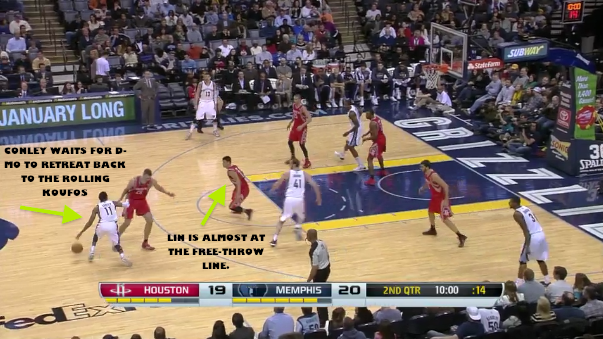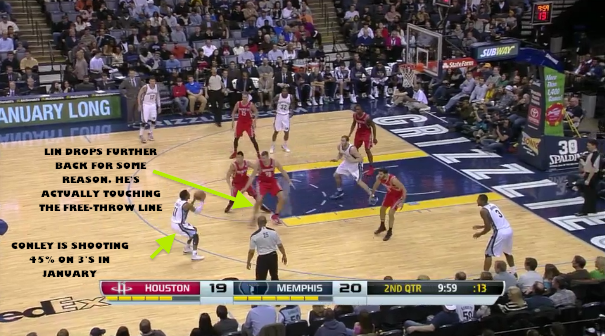 Some of Lin's problems aren't an isolated disease, but instead a team-wide epidemic. Last weekend there were several mismatches forced on Lin (and a few other Rocket guards) by the coaching staff. Lin's already a poor defender, and when Houston goes small (aka without Howard) things get much, much worse.
Here's a strange situation from the same game. This isn't even Lin's fault, and his role in the play ultimately proved inconsequential. But it should still be highlighted for no other reason than to point out how ludicrous some of Houston's lineups were in both those excruciating losses.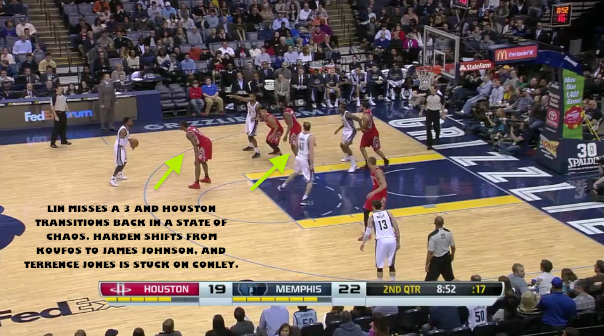 The Rockets missed James Harden in their past two games, but both were still wins against the San Antonio Spurs and Dallas Mavericks. Lin was a fantastic replacement in the starting lineup.
From night to night Lin can be a dazzling force. The way he finishes at the rim—so often amid utter chaos—is hypnotizing. But as an integral piece on a team trying to win the title, he doesn't deserve his price tag. Houston would love all the cap space they can find trying to build a championship team around their two center pieces. A trade over these next few weeks is unlikely, but Lin and Houston will part ways sooner than later.
Michael Pina flips cars at Red94, CelticsHub, The Classical, Bleacher Report, Sports On Earth, and Boston Magazine. Follow him here.