King of the Mountain – The Rockets rode their hot week/month/calendar year, not to mention their player of the week, all the way to the top of the Marc Stein's power rankings this week.
The Rockets, in case you missed it, were the 10th team this season to have a crack at playing the Heat and the Pacers during the same week … and the first of those 10 to win both games. Now let's see how far Houston can take its 15-2 surge with road games looming in OKC, Chicago and Miami.
The Rockets are the hottest team in basketball and maybe hotter than any team has been all year.  The number that gets thrown around these days is 23-6, the Rockets' record since January 1st.  But in reality, I don't think celebrating the New Year (or the pain of losing to Sacramento on the eve of it) is what turned Houston's season around.  To me, the difference came after that painful second-half collapse to the Thunder on January 16th, when the Rockets only scored 19 points after halftime.  A loss like that can deflate a team or it can harden them.  And following that game, the Rockets reeled off wins in 11 of their next 13, and have been 18-4 (82% winning%) overall.  They just seem more resilient, callous.  Instead of wilting under the pressure of LeBron or the Pacers' defense or Blazers shooting, they've become the team that can't be turned away.
So maybe it wasn't a revelation-game or an epitome brought on by any one event.  Maybe it was just that the team added the biggest free agent in franchise history and then suffered so many nagging injuries that they just needed half a season to coalesce.  But whatever it was, the Rockets are a different team than they were 2 months ago when they couldn't turn the tide against Oklahoma City.  And now, this OKC team is vulnerable.  With Houston just 2.5 games shy of the best record in the NBA, ESPN is asking silly questions like "Should the Rockets concern the Thunder?".
I don't know how the Thunder feel about that, but they damn well should.
"Damian Lillard whines" –
"The way I guard him, the way I guard Steph Curry, the way I guard Chris Paul, the way I guard Goran Dragic, I guard all players the same.  I don't look at film on players.  I don't look at players' habits.  I go out there and impose my will on people and I do what I do, and I'm aggressive on defense."  
After the Rockets' come-from-behind win against the Blazers this weekend, there was a lot of what could be described as whining coming from Portland's locker room.  First, Wes Matthews complained about the refs, and now Damian Lillard is complaining about Patrick Beverley's particular brand of defense.  That sort of thing is to be expected from a team that was a media darling as the three-seed in the loaded West just a few weeks ago, and is now just six games away from missing the playoffs entirely.
And despite Lillard's complaints, Beverley isn't backing down.  In an interview with Sports 790-AM, he defended his style and even mentioned that guys like Chris Paul and Steph Curry have lauded him for pushing them to get better.  He was pretty candid and straightforward in the interview, not surprising to anyone who has ever seen Beverley play basketball.
I think it's safe to say that a lot of the toughness and resiliency that the Rockets have displayed during their hot-streak comes from their fiery point guard.  Just the way he described his "game plan", or lack thereof, is inspiring.  Even James Harden has shed some of his "too cool for school" motif and started performing like a killer when the team needs it.
When things are going as well as they are for the Rockets, you can point to anything and credit it for helping the cause.  But Beverley's contributions don't appear to be just circumstantial.  He's a big part of a locker room that is led by a laid-back coach in Kevin McHale, takes its cues from a goofball like Dwight and is built around the skills of two cool-cats, Parsons and Harden.  And yet lately, the team has been ferocious.
Talk about imposing your will.
OH MY GOD! – @PatrickTruby has created another cool animation for Deadspin.  This time it's James Harden's emphatic dunk during that remarkable 3rd-quarter against the Pacers last week.  If you haven't see the previous creations, Paul George's windmill and Terrence Ross' crunch over Kenneth Faried, click the link and check them out.  Very cool.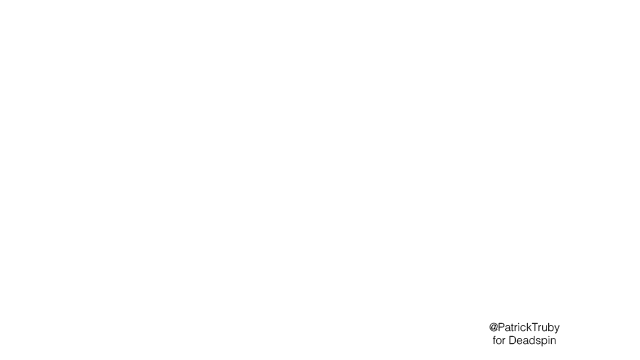 As if that wasn't enough, a Reddit user perfectly summed up Harden's night from that same game, exhibiting the awesome power he summoned to vanquish the Pacers.
View this discussion from the forum.