[tab: English]
请点击另一个标签来阅读这篇文章的中文。
This isn't happening.  Not now.  Not with a 6 point lead in the 4th over the mighty Lakers.  Not after 79 games of good health.  I feel the emptiness; that exhaustion upon the sudden collapse of a prior hope.  It had to happen now?
One of the most memorable minutes in Rockets history, still so chill-inducing in its remembrance, the tunnel scene was the defining moment of Yao Ming's career.  So real it seemed scripted – like some WWF plotline.  One could almost feel Yao's anguish as he fought Keith Jones, a panicked desperation overcoming his visage.  Yao so very well knew that it was his moment and it was slipping away, grasped once more by the cruel clench of fate.  Walk away from it he could not do – not after how far he had come.
httpv://www.youtube.com/watch?v=6jRXhj1PpFU
In that first year, Yao would peer intently at his translator, the one link that helped him make sense of this brave new world.  But from the start, the wit and wisdom in his words were evident.  He was shy, but pregnant with a certain eagerness to please.
Yao did not just carry the hopes of a city, but those of an entire nation, enduring the challenge of learning the NBA game while facing the prospect of adapting to American culture.  He epitomized selflessness, the ideal teammate, always the first to come and last to leave after practice, one of the greatest ambassadors the game has ever seen.  He was, from the start, the model NBA player in every way, right down to a textbook shot, holding his hand perfectly behind the ball as is taught in the books.
Over the years, Yao made huge strides, growing, filling out into a monster.
But his game grew too.  Early on, Yao was plagued by fouls, almost routinely picking up two in the first twelve.  But now, he's a wall – while not a great shotblocker, one of the game's best goalkeepers, and the anchor of what has been one of the league's best defenses for nearly a decade.
The offense was there from the start.  In certain spots, Yao Ming has been unguardable. [61% last season on 'inside' shots].
Yao can score with either hand on either block, fadeaway in either direction and even face up for a shocking pump fake-and-drive against certain matchups.  He is automatic from the free throw line.  If facing single coverage, or allowed to shoot without taking a dribble, the result is almost always a sure hoop.
**
It's been long forgotten, but when Yao first entered the league, hardly anyone expected dominance.  The scouts called him a project, saying it could take some time.  The pundits outright dismissed him.
I thought Yao's ceiling was 13 and 8 – serviceability.  I envisioned him spreading the floor from the high post while Francis and Mobley carried the load.  Like a new-age Sabonis.
Naturally, 20 and 10–with glimpses of brilliance mixed in–came as quite the surprise.  No one expected a post-game at the NBA level.   At least not that fast.
In his overachievement, Yao only fueled expectations, feeding us to want more and forget for what so little we had originally asked.  He became a victim of his own success.  It didn't matter that he was doing far more than any "giant" had done in league history.  If he was the game's best offensive center, it was asked, why did he struggle so often?
**
The underlying irony of the Yao saga is that the man's greatest strength is also his tragic downfall.  The gargantuan size that has made Yao the most lethal low post-scorer in basketball is also the cause of his many struggles and injuries.
Critics label Yao soft, scoffing that a man his size should rebound better and not so often be dunked upon and blocked.
Rather than shedding any actual insight, the charges really only expose the critics' incomprehension of basic physics.  In most respects, such great size is not an asset but rather a hindrance.  At 7'6, it is difficult to even move, let alone chase rebounds and small guards in the air.  The equation is not quite as simplistic as mere height conveying dominance.
But it's chic to ridicule Yao because when he plays poorly, he literally appears it.  For others, a tough night may entail missed shots and turnovers.  But when Yao has poor outings, he falls down, and is blocked and stripped from behind.  Struggles become exaggerated by the slow motion of his world; awkwardness conveys a greater sense of futility.
If Yao were soft, it is unlikely he would fair so well in his matchups against the biggest of bigs; he certainly would not manhandle Dwight Howard so thoroughly.
Click here for 'Yao Ming Part 2'.
[tab: 普通话]
这不会是真的!不应该发生在这个时候,不应该发生在我们第四节领先了强大的湖人队6分的时候,不应该发生在健健康康地打了79场比赛之后。我觉得自己像是被掏空了,那是一种由于所有希望在突然间崩塌而产生的无力感。为什么一定要在这个时候发生呢?――这是姚明披露上赛季的那次受伤后的感受。
这是火箭队历史上最令人难忘的时刻之一,也是他们最悲情的回忆之一,这一幕同时也是姚明职业生涯的关键性时刻。它是那样真实,就像是WWF(世界摔跤联合会的比赛,情节都是假的)剧本里才会出现的场景。当姚明推开球队训练师Keith Jones的那一刻,你几乎可以感受到他的痛苦,他的脸上充满了恐慌与绝望。姚明非常清楚,这本应该是属于他的时刻,但是现在它溜走了,这又一次印证了命运的残酷。不管打了多长时间,他都不得不离开球场。
httpv://www.youtube.com/watch?v=6jRXhj1PpFU
在姚明来到NBA的第一年,他离不开翻译,只能通过翻译感知他刚抵达的新世界。但是从一开始,他就显示了他的语言天赋。他很害羞,但却非常渴望能获得认同。
姚明承载的不仅仅是一个城市的希望,而是一整个国家的希望。他经受住了一边适应美国文化,一边学习NBA比赛的挑战。他的个性非常无私,是个完美的团队球员,并且总是第一个到达训练场,最后一个离开,他是我们在赛场上见过的最伟大的球员之一。从一开始,他就是NBA球员的模范代表,不管从哪一方面来说都是这样:地地道道的教科书式投篮,将他的手完美地放于篮球后面,一如书上所教。
经过这些年的历练,姚明取得了巨大的进步和成长,他的身体变得更加强壮了。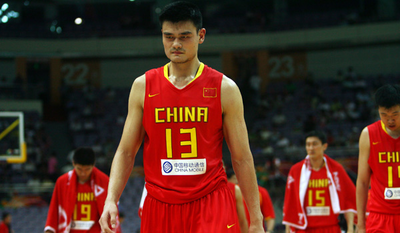 同时他阅读比赛的能力也提高了。在早期,姚明深受犯规困扰,经常在前12分钟就身背2次犯规。但是现在,他就像是一堵墙――但还不是一个伟大的封盖者,或是比赛中最好的"守门员"之一,而这正是近十年来联盟评价最好的防守之一的关键因素。
姚明的进攻从一开始就非常好。在某些特定的区域里,他是无人能挡的。
姚明能够在禁区的任何一边用任何一只手投篮得分,能从任何一个方向后仰跳投,甚至能在面对一些特定的对手时,正面做一些令人惊讶的假动作投篮。在罚球线上得分对他来说是家常便饭。如果姚明面对单人防守,或是不需要经过掩护的进攻,这些情况下他能轻松完成投篮,结果几乎总是投篮命中。
**
有些事早被遗忘,在姚明刚进入联盟的时候,几乎没有人认为他会有什么优势。球探称他是一项未完成的工程,认为他要打NBA还需磨练一段时间,那些专家们直接将他排除在外。
我本来以为姚明的数据最好会是13分8篮板。我想他在比赛中可以为弗朗西斯或莫布里做一些高位掩护,就像是新时代的萨博尼斯。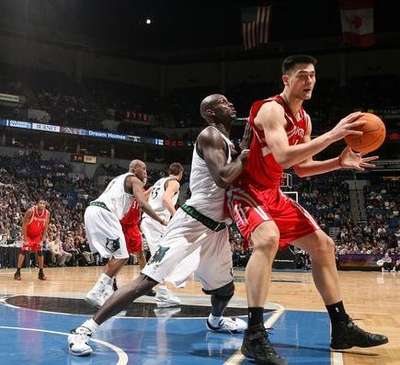 结果他却那么自然地得到了20分10篮板,而且只需稍微发挥一下就能做到,这太令人惊讶了。没有人能在一夜之间适应NBA级别的比赛,至少不会这么快。
在取得超乎人们预想的成就时,姚明所做的只是不停地提高人们对他的预期值,不停地满足我们更多的需求,却忘记了最初我们对他的期望是多么地低。他成为了他自己成功的牺牲品,但是这并不妨碍他比历史上任何一位伟大的球员做得还要多。如果说他是比赛中最好的进攻型中锋,那么就有一个疑问:为什么他经常会打得那么挣扎呢?
**
具有讽刺意味的是,在姚明的传奇故事里,他的力量仍然是他最为悲剧的缺陷。庞大的身躯使得姚明成为了最具威胁的低位得分手,而这同时也造成了他在很多时间里的挣扎以及伤病。
批评者说姚明打球软,称以他的体型,应该抢到更多的篮板,并且不应该经常被人在他头上扣篮或是被人盖帽。
这些指控显示了批评者根本就不懂基础物理学,他们没有考虑真正的深层次原因。事实上,在很多方面,这么庞大的身躯并不占据优势,反而会是他们的劣势。拥有7尺6寸身高的人,连移动都会很困难,更别说去抢篮板或是跳起封盖小个后卫的投篮。这反映了速度并不是与身高成正比的。
现在很流行批评姚明,那是因为当他表现不佳的时候,他暴露出来的基本都是以上这些问题。其他球员如果打得很艰难的话,往往会伴随着投篮失准,或是失误,但是姚明如果表现不佳,那就是他动作太慢跟不上,还有被人封盖或是从后面被人抢断。因动作太慢而表现出来的挣扎被人们夸大了,似乎他在篮下毫无作用。
如果姚明真的软弱的话,他不可能与最强壮的大个子们进行对抗,事实上,他在对位德怀特-霍华德时并没有被完全限制。
请及时登陆www.red94.net阅读"姚明"的第二部分。